---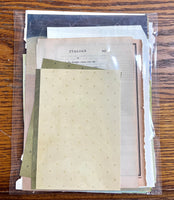 This kit has a variety of papers from vintage books, encyclopedias, dictionaries, hymnals, magazines, scrapbook papers, and other paper- all with different paper weights, dimensions,  and texture.
This kit is perfect for a junk journal project, mixed media art, or your favorite paper crafting project.

You can use the scrapbook paper as is or for a master board to create various items such as tags, envelopes, tuck spots, pockets,  ATC cards, journal spots, belly bands, and more. You can back the paper with brown paper, coffee died paper, lined paper or anything you would like. 

This kit weighs just approx 1/2 pound.