---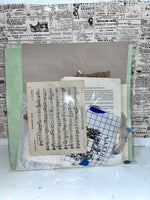 This kit has a variety of papers from vintage books, encyclopedias, dictionaries, hymnals, magazines, scrapbook papers, and other paper- all with different paper weights, dimensions,  and texture. Each kit is unique and also has napkins, fabric, and transfer scraps. 


This kit is perfect for a junk journal project, mixed media art, or your favorite paper crafting project.

You can use the 12x12 scrapbook paper as is or for a master board to create various items such as tags, envelopes, tuck spots, pockets,  ATC cards, journal spots, belly bands, and more. You can back the paper with brown paper, coffee died paper, lined paper or anything you would like. 

This kit weighs just under 1 pound. 


Perfection; immediate Delivery; Very Satisfying
I loved all my items and products; all were provided, as ordered and described; phenomenal customer service. I was extremely pleased with my purchase. It is so refreshing to experience a satisfying transaction. Additionally, I was super excited to find the personal touches applied to my order..it is appealing to know the my package was prepared with heart-sent gratitude and in such a respectful manner!! It Thank you Leesa!!!